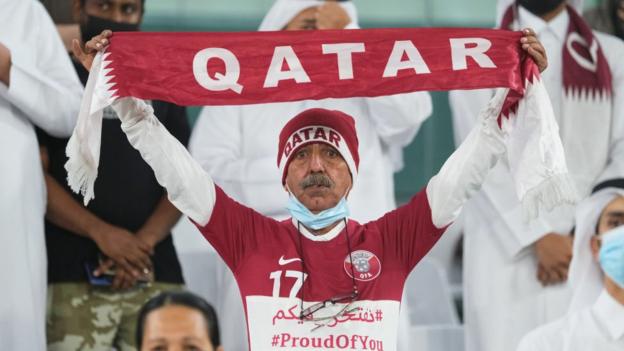 One and a half million fans from all over the world are expected to visit Qatar to watch the World Cup finals, which start on 20 November.
But the Gulf state, which follows strict Muslim laws, is receiving an increasing number of complaints about its stance on same-sex relationships.
What is Qatar's stance on gay rights?
Homosexual acts are illegal in Qatar because they are considered to be immoral under Islamic Sharia law.
Punishments include fines, prison sentences of up to seven years – and even death.
Qatar's World Cup organisers state "everyone is welcome" to visit the country to watch the football matches and claims no one will be discriminated against.
However, Qatar 2022 chief executive, Nasser al Khater, says the government will not change its laws on homosexuality and has asked visitors to "respect our culture".
He has said that in Qatar any public displays of affection between couples – whether gay or straight – are frowned upon.
Human Rights Watch has recently released a report saying that Qatari security forces are continuing to arrest citizens who are gay, lesbian, and transgender, sometimes forcing them to undergo conversion therapy.
Qatar's government has said the report contains false allegations.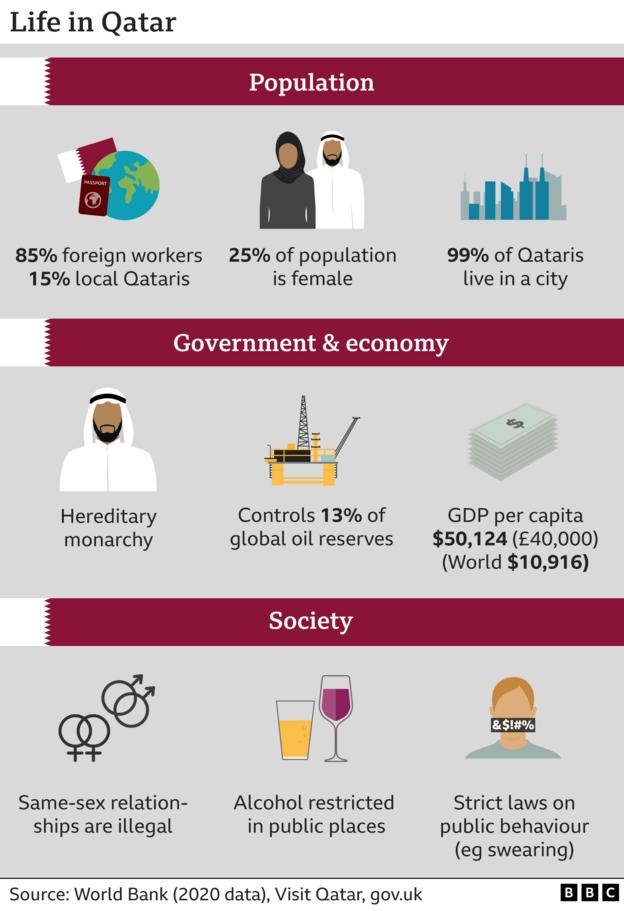 How have people been protesting?
Australia's football squad has released a video urging Qatar to abolish its laws on same-sex relationships.
In the video, the squad also criticises Qatari employers for their treatment of an estimated 30,000 migrant workers who have been building facilities for the World Cup finals.
Many workers are said to have died or been injured because of poor health and safety measures on building sites.
Denmark's football players say they will wear a "toned-down" all-black kit to protest against Qatar's human rights' record.
England's captain Harry Kane, along with the captains of nine other teams from Europe, will wear 'One Love' armbands to protest against Qatar's anti-homosexuality laws.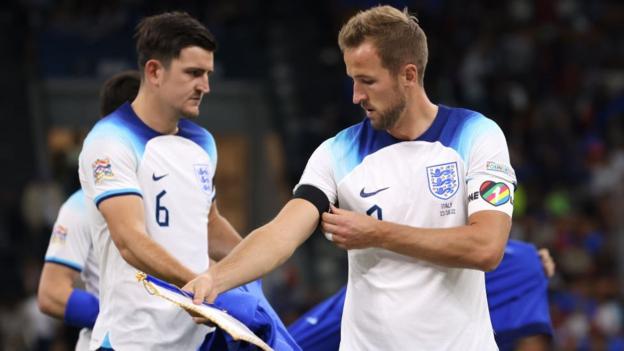 Paris, and other French cities, are refusing to screen World Cup matches in public areas, despite France being the defending champions.
British LGBT rights campaigner Peter Tatchell says he was "arrested and detained on the kerbside" while protesting in Qatar's capital, Doha.
The Qatari government has said claims of an arrest are "completely false".
Why was Qatar chosen as the World Cup host?
In 2010, Qatar clinched the rights to the World Cup after winning a ballot of Fifa's 22 executive members. It defeated bids from the US, South Korea, Japan and Australia.
It is the first Arab nation to host the tournament.
Qatar was accused of paying Fifa officials £3m ($3.7m) in bribes to secure their backing, but was cleared after a two-year investigation.
At the time, Fifa's then-chairman, Sepp Blatter, supported Qatar's bid, but has since said the organisation may have made the wrong decision.
What can World Cup fans expect in Qatar?
Qatar, which has a population of 2.9 million, is one of the world's wealthiest countries thanks to oil and gas exports.
It has built seven stadiums specifically for the tournament.
More than 100 new hotels, a new metro and new roads are also being constructed.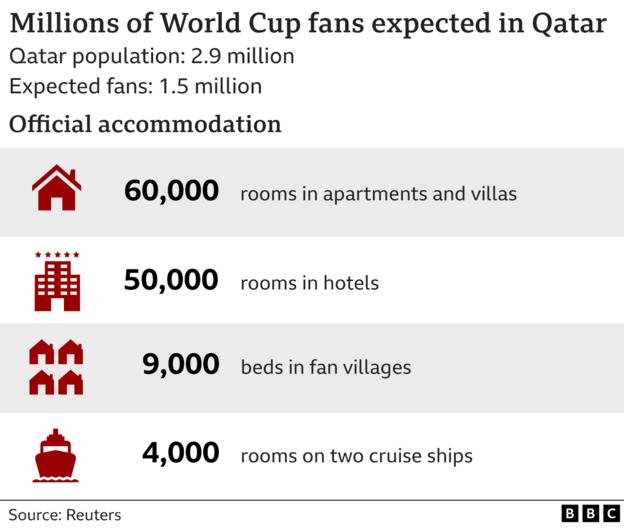 As a conservative Muslim country, drinking in Qatar is normally restricted to bars in luxury hotels. A pint of beer can cost £10 ($13).
World Cup organisers say that during the finals, alcohol will be served "in select areas within stadiums", for three hours before matches and for one hour afterwards.
Alcoholic drinks will also be available in a 40,000-capacity fan zone in Doha, and there will be zones where drunken fans can go to sober up.
Why is the World Cup not taking place in summer, as usual?
The World Cup finals are being held between 20 November and 18 December – when the temperature in Qatar is usually around 25C (77F).
Had the finals been held in June and July, as they normally are, the matches would have been played in temperatures exceeding 40C and possibly reaching 50C.
Qatar initially proposed to host the finals during the summer in air-conditioned enclosed stadiums, but the plan was rejected.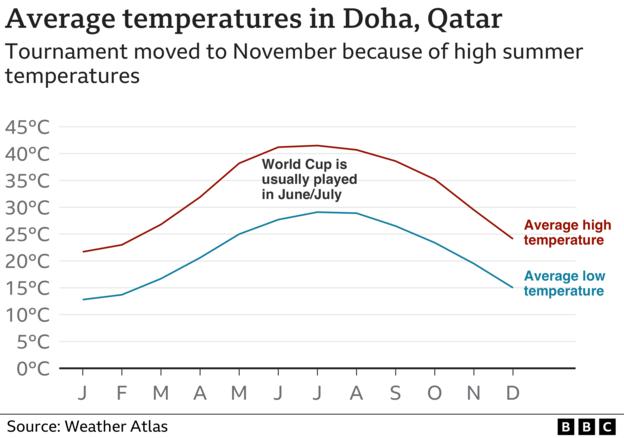 What's difficult about holding the World Cup later in the year?
November and December are busy months for European football clubs. Many leading players will be called up to play for their countries at Qatar 2022.
European leagues including England's Premier League, Italy's Serie A and Spain's La Liga are suspending their seasons a week ahead of the international tournament.
Matches will restart after the competition has finished.