The U.S. energy sector has gone from strength to strength in recent years. In our latest insight piece, we look at forecasts for U.S. oil production and prices going forward
U.S. oil output fell steadily from the 1980s to around 5 million barrels per day by the mid-2000s, driven by a prolonged period of depressed oil prices. But the sands have now shifted: Thanks to the explosion of the shale industry, American oil production has surged to around 12 mbpd, turning the country into a net energy exporter for the first time in decades.
The future is bright. The Consensus among our analysts is for WTI oil prices to trade above USD 80 per barrel in the coming two years—far above producers' breakeven levels, which range from USD 48 to USD 69 per barrel for new wells. Together with pipelines additions, this should bring output to a record high of 12.8 mbpd by 2024 according to the Energy Information Administration.
As a result, the U.S. will stretch its lead as the world's largest crude producer; our panelists see the next biggest player, Saudi Arabia, pumping roughly 11 mbpd in 2024. This bodes well for exports and—crucially—energy security. Back in the early 1970s, a U.S. economy dependent on foreign energy was hit hard by OPEC's oil embargo. Today, thanks to the resurgence of domestic energy production, a repeat of such a scenario is a distant prospect.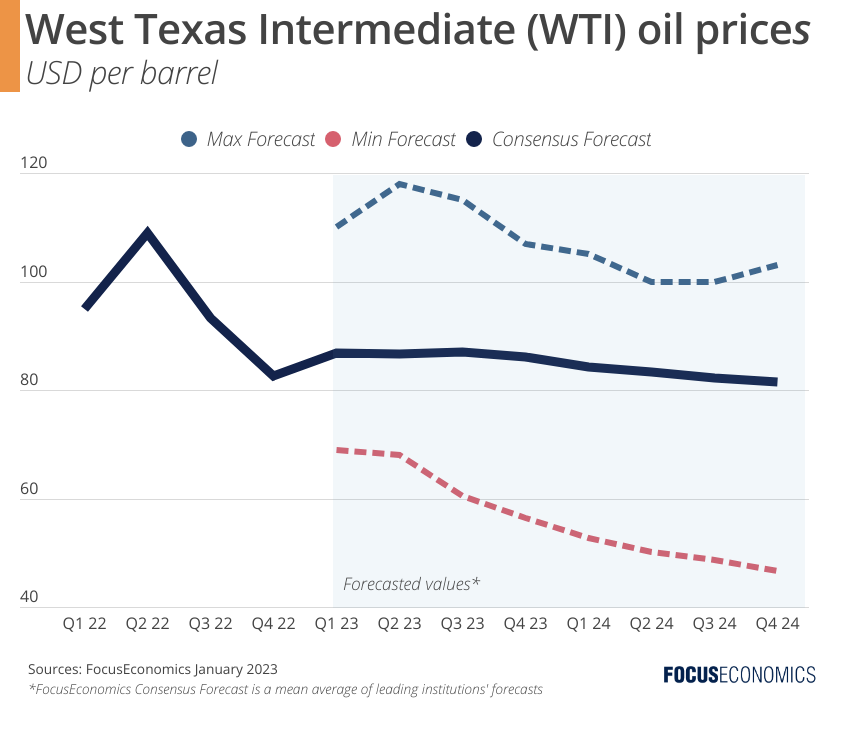 Insights from Our Analyst Network
On the outlook for oil prices this year, the EIU said:
"Oil prices will remain subject to diverging forces in 2023, although EIU expects that, on the whole, upward pressures will prevail. On the one hand, the steep rise in prices of oil and gas in 2021-22 is contributing to a sharp slowdown in energy demand in many OECD markets. Oil traders remain concerned about recession risks amid aggressive monetary tightening by OECD central banks. On the other hand, China's changing policy environment now moves from being a major downside risk to our demand and global price forecasts to a major upside risk—much will depend on how quickly the country's economy reopens in 2023 and the severity of covid outbreaks in the first half of the year."
On U.S. production, EIA analysts said:
"Our forecast of crude oil production in the Permian increases by 470,000 b/d to average 5.7 million b/d in 2023. Completion of new natural gas pipelines will allow producers to transport more of the natural gas that is produced along with crude oil (associated natural gas) to market, removing a potential constraint on crude oil production. Producers currently flare some of the natural gas they produce. We forecast that crude oil production in the GOM will increase by 120,000 b/d in 2023, while production in other regions of the United States (except for the Permian) declines slightly. In 2024, we forecast that crude oil production in the Permian will increase by 350,000 b/d."